As independent practitioners, Paul Whiteman Optometrists are able to offer advice on the latest in a wide variety of spectacle lenses to suit all your visual requirements.
From 'Wavefront' high definition lenses to some of the world's fastest reacting photochromic lenses we have the knowledge and experience to advise you on their suitability to solve your eyesight problems.
Varifocals
Modern varifocal or progressive lenses come in many different designs and materials. At Paul Whiteman Optometrists it's our job to find the most suitable one for you. With more than a hundred different models on the UK market, this can be a challenge which only a full understanding of your visual requirements can help to resolve. For those with more complicated vision problems, it is now possible to have individual 'tailor-made' varifocals manufactured to your own requirements.
There are many varifocals designed specifically for leisure, sport or vocational use some of which are discussed below.
Anti-scratch coatings

An anti-scratch coating can lengthen the life of your lenses preventing scratching whilst wearing and cleaning. Anti-scratch coatings are sometimes combined with AR coatings and hydrophobic coatings which keep grease, rain, snow and fog at bay.
Lenses for sport
Modern lenses for amateur and professional sportspeople can now be made to give a very wide distortion-free field of view. Often the lenses are made to 'wraparound' the face in order to shield the eyes from bright light, UV radiation and provide superior protection. Combining these specially designed 'Free-form' lenses (single vision or varifocal lenses) with a suitable tint (see below) and frame allows you to enjoy all types of sports and outdoor activities.
Specialist lens makers Shamir offer their single vision Smart Attitude™ and varifocal Autograph Attitude™ with a large variety of sports tints and designs.

High-index lenses are lighter and thinner
High-index lenses are suitable if you want thinner, lighter, more attractive lenses. High-index lenses are especially recommended if you have a strong short-sighted or myopic prescription.  These lenses have thinner edges than lenses with the same prescription power made of conventional plastic material.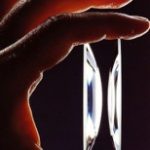 Lightweight high-index lenses are even more of a benefit for long-sighted or hypermetropic prescriptions, which can make conventional lenses very thick and heavy.
Most high-index lenses also have an 'aspheric' design, which gives them a slimmer, more attractive profile and reduces the magnified 'bug-eye' look. High-index lenses come in a number of different plastic materials. 1.6, 1.7, 1.74 indices are all available. The higher the index the thinner the lens.
Anti-Reflection Coatings
Anti-reflection coatings (also called AR coatings or anti-glare coatings) improve both your vision through your lenses and the appearance of your glasses.
AR coatings are similar to the coatings found on microscopes and camera lenses. They usually have a hint of green or purple colour, depending on the individual manufacturer.
The result is that you'll see a reduction in glare, annoying reflections and halos around lights caused by internal reflections of your lenses.
Furthermore, AR coatings reduce the reflections that others can see in your lenses improving their cosmetic appearance and reducing the appearance of thickness and power.
Anti-reflective coatings benefit virtually everyone who wears spectacles and is available for most types of prescription lenses. Wearing AR coated lenses has been shown to improve night driving vision and increases comfort during prolonged computer use (compared with wearing uncoated lenses).
Computer lenses
Due to the awkward distance, a computer display screen and keyboard can be from the eyes, often normal reading or distance spectacles are unsuitable for prolonged periods of screen focused work. Nowadays there are dedicated designs of varifocal lenses which allow you to focus on your display screen, keyboard and desk with a much wider field of view than a normal varifocal. These 'Business' lenses are invaluable to busy screen-based operators.
Trivex® and polycarbonate safety lenses
When eye safety is a concern, polycarbonate or Trivex® lenses are usually the best choices for your spectacles, sunglasses and sports eyewear.
Both polycarbonate and Trivex® are thinner and lighter than regular plastic lenses. They also offer 100 per cent protection from the sun's harmful UV light and are up to 10 times more impact-resistant than plastic or glass lenses.
This combination of lightweight comfort, UV protection and impact resistance also makes these lenses an excellent choice for children's glasses and safety glasses.
They also make a very good choice for rimless frames where the lenses are attached to the frame components with drill mountings.
Photochromic lenses

Photochromic lenses such as those made by Transitions Optical® or Carl Zeiss Vision® are clear (or nearly clear) indoors and darken automatically in response to sunlight outdoors. They also protect your eyes from 100 per cent of the sun's harmful ultraviolet radiation.
These features make photochromic lenses a great convenience because they reduce your need to wear prescription sunglasses in most outdoor conditions.
Today's photochromic lenses come in a wide variety of lens types. So, whether you prefer high-index lenses, or regular plastic or glass lenses, you will be able to purchase a photochromic version of your preferred lenses.
The new PhotoFusion® photochromic lenses from Carl Zeiss Vision® react up to 20% faster than existing Carl Zeiss Vision lenses and are available in all their lens design ranges.

Tints for sport
Most lens manufacturers offer a range of tints or filters for use by sportsmen and women. However, the choice of colour and density should be carefully considered when choosing as it is dependant not just on the sport but also the subjective preference of the wearer.
There are 4 main types of tint:-
Fixed tints (Full or Graduated)
The commonest used tints are grey, brown and green. Depending on the colour, these filters reduce the intensity of light entering the eye with or without enhancing the contrast of objects. There is a minimal distortion of colours with these tints.
The commonest uses for these tints are; Driving, golf, tennis,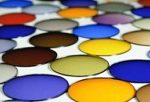 mountaineering, running and skiing.
If high contrast is required then orange and yellow filters are highly effective. These lenses do distort colour so are not suitable for activities which require accurate colour recognition. They work well on an overcast, hazy or foggy days and enhance depth perception.
The commonest uses for these tints are Driving, shooting, golf, skiing (in low light levels), cycling, flying and sailing.
Photochromic tints
Due to the density of the tint being able to vary according to the level of sunlight photochromic filters are ideal for activities taking place in variable light/weather conditions.
Polarised tints
These filters eliminate blinding glare from reflected light bouncing off surfaces like water, concrete or wet roads. They are a good choice for fishing, water sports, driving and cycling. However, they are not a good idea for sports such as skiing when the skier relies on reflections to see ice.
Mirror tints
These filters reduce glare and infrared light. They are ideal for water and snow sports. Often the mirror tint is combined with a fixed tint to improve its performance
What is iScription®?

i.Scription® technology by Carl Zeiss Vision is based on their eye measuring system called the i.Profiler® aberrometer designed to determine the exact "fingerprint" of your eyes and provide detailed information about your unique needs.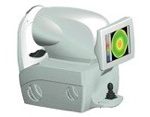 1500
measuring points are used to determine an exact visual profile of your eye. Even the slightest deviation from the ideal shape of the eye is measured electronically. Based on your visual profile,
Carl Zeiss Vision
 computes a precision lens designed to match your eye perfectly. No other manufacturers' spectacle lenses are produced with this level of precision.
See more accurately with i.Scription® technology by Carl Zeiss Vision.

Better night/low-light vision
Looking directly at a light source at night results in glare and halo effects, e.g. car lights. These are reduced by i.Scription® technology.

Better visual contrast
Seeing contrast e.g. white letters on a black background is especially challenging of the eyes. iScription® technology sharpens contrast.
Better colour vision
i.Scription
®
technology adds more brilliance to your life and lets you see colours as they are: bright and more intense.

Wavefront lenses
Measurements from your eye examination and the 
iProfiler
®
 aberrometer are sent to
 Carl Zeiss Vision 
who manufacture your personalised
iScription
®
 high definition 
spectacle lenses that reduce high-level aberrations which restrict the field of view and cause starbursts and distortions of lights at night.

For further information Read more…