Contact lenses are one of the miracles of modern technology. Today, more than three million people in the UK enjoy the clear, natural and unobstructed vision offered by contact lenses which don't fog up or get splashed with rain as glasses sometimes can. New lens designs and materials, as well as advanced care products, now make contact lenses easier and more comfortable to wear than ever before. They offer freedom from wearing glasses in daily life, when playing a sport, or for that important social occasion, and can bring particular benefits for individuals with stronger vision correction requirements. Paul Whiteman Optometrists offer a comprehensive contact lens fitting and 5*Aftercare service. We are able to fit and supply all types of soft and rigid gas permeable designs, from the latest ACUVUE Trueye™ silicone hydrogel daily disposables to the CooperVision Proclear™ toric (for astigmatism) multifocal lenses.
We can supply contact lenses for all purposes ranging from lenses you can wear every day or for occasional use such as when playing sports, through to extended wear lenses designed to be slept in for prolonged periods and eliminating the need for regular daily maintenance.
Can I 'Try Before I Buy' contact lenses?
We offer all of our potential contact lens wearers an opportunity to try lenses to see whether their eyes are able to tolerate wearing them prior to purchasing. For more detail see 'How do I arrange to try contact lenses' opposite.
Am I too old/young to wear contact lenses?
Major advances in contact lens design mean that,  nowadays, almost anyone can wear contact lenses successfully. People of all ages can be fitted, although special care is needed for the very young and elderly.
Children as young as 8 can successfully wear contact lenses. Whether they want to wear them constantly or just for sport there are modern contact lenses to suit their needs. They can improve how young people feel about their appearance and increase their confidence amongst their friends and peers.
So, whether you are 8 or 80, there is a contact lens for you!
Can I wear contact lenses if I have astigmatism?
Common eyesight defects – such as short-sightedness and long-sightedness – are easily corrected with contact lenses, but now conditions such as astigmatism can also be treated very effectively with so-called 'toric' contact lenses.
In the past, people with astigmatism – a condition in which the eye is irregularly shaped causing distorted vision – were restricted to wearing glasses, but today's toric contact lenses can be custom made for each individual to provide clear vision.
Can I wear contact lenses if I have to wear varifocals or bifocals for both near and far vision?
Presbyopia is the term used to refer to the ageing of the eye's crystalline lens which progressively affects everyone over the age of about 40.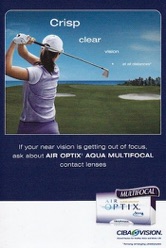 Presbyopia makes it difficult to shift focus between near and distant objects. This condition can be corrected with bifocal or multifocal contact lenses which provide clear distance and near vision. J&J's new ACUVUE Oasys for Presbyopia®and Cibavision's AIR OPTIX™multifocal lenses are two examples of the latest multifocal contact lenses designed for correcting presbyopia. 
Can I wear my contact lenses overnight?

Some contact lenses such as ACUVUE Oasys™ can be worn while you sleep. They are designed to be worn for six nights seven days consecutively. Not all patients eyes are suitable to sleep in contact lenses. However, our optometrist will be able to advise you and arrange a tolerance trial if appropriate.
Are contact lenses comfortable?
Modern disposable soft contact lenses are extremely thin and are manufactured from materials that allow oxygen to pass through them and reach the eyes surface. Most people find them very comfortable and easy to wear – it doesn't take long before it can feel like you're wearing nothing at all in your eye.
To help ensure you enjoy maximum comfort, many lens types such as J&J's ACUVUE 1 Day Moist ™, Cibavision's Aqua Comfort Plus® use patented wetting technologies to give the wearer a smooth, silky feel that will help keep their eyes moist and comfortable all day long.
Can I wear contact lenses when I do sport or other activities?
Lenses are great for sports. They give you perfectly clear eyesight with no risk, like your glasses, of fogging up, falling off or breaking. What's more, lenses give your eyesight optimum peripheral vision. Wearing glasses can be a big inconvenience when you need to use goggles or a protective mask, contact lenses don't get in the way and let you get on with whatever you are doing.
How much does it cost to wear contact lenses?
The cost of wearing contact lenses depends on the type of lenses and how often you wear them.
Our optometrist will be able to explain the exact cost of the best contact lenses for you once you have had a tolerance trial appointment (see 'How do I arrange to try contact lenses' opposite).  
The cost of your tolerance trial includes the charge for your initial eye exam, trial lenses, care solutions (where necessary) and tuition on handling, inserting and removing them. Normally, the cost of a contact lens tolerance trial for disposable contact lenses is between £65.00 & £85.00.
What's new in the world of contact lenses?
Whether you want to wear contact lenses for a few hours per week to play a game of squash of for a Pilates class or wish to wear lenses 18 hrs per day, every day, there is a suitable lens for you.
J&J ACUVUE Trueye™ is a new silicone 1 Day contact lens that lets maximum amounts of oxygen to the eye and allows long periods of extremely comfortable healthy wear.

If you have high degrees of astigmatism or need a bifocal contact lens, with modern lens technology there is now a lens to suit.
For example, the new Bausch & Lomb PureVision 2 Toric™ is the latest development in silicone astigmatism correcting lenses.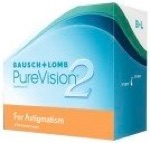 Or, J&J's ACUVUE Oasys for Presbyopia ® is a specialist multifocal lens based upon the brand leading Oasys ® silicone material. It gives the wearer both good distance vision and good reading.

CooperVision's Proclear Toric XR™ contact lens offers those with larger than normal degrees of astigmatism combined with short or long sight the opportunity to wear monthly replaceable lenses.

What types of contact lenses are available other than disposables?
Despite all the benefits of disposable contact lenses (see right) we realise some patients require to be fitted with alternative types of lenses. We are therefore able to fit and maintain the following types of lenses:-
Gas Permeable rigid contact lense

s

(single vision, toric, bifocal) often provide a more economical solution than disposable contact lenses and are the lens of choice for people with keratoconus (conical cornea) or any other form of corneal irregularity.
Traditional 

permanent soft contact lenses

(single vision, toric, bifocal, coloured). Seen as the predecessor to disposable soft lenses, permanent soft lenses are more economical but have the benefit of comfort and ease of wear.
Please ask our staff if you have further questions about alternative contact lens types that we fit and supply.
How do I arrange to try contact lenses? (and what happens at my appointments)

Initially, you should book a 'tolerance trial' appointment with our reception staff.

During this appointment your eyes will be tested to determine the strength of lenses you will need for clear vision, also the health of your eyes will be examined.  Then, specific measurements of the shape, size and contour of your eyes will be made.
Based on this information, our optometrist will be able to advise you about the most suitable type of contact lenses for your individual requirements.
Appropriate contact lenses will normally be taken from our large stock of trial lenses (for more complicated prescriptions we may have to order them from a manufacturer) and the optometrist will put them on your eyes for you.
You will then be taught how to insert and remove the lenses.
If required, you will be given lens care solutions and a storage case.
Before leaving our practice you will be given sufficient contact lenses to allow you to try them for 10 days.
When you leave our practice you will make a 'follow-up' fitting appointment to check how the lenses have worked during the trial. You will be asked to pay for your tolerance trial appointment, the fee for which covers the cost of your eye examination, contact lens fitting, contact lens handling tuition, follow-up fitting appointments (until the process of fitting has been completed)
During the follow-up appointment modifications to the type, power or fit of the lenses may be made.
You will then be asked to continue with the trial for a few days longer wearing the modified contact lens specification.
Once the process of fitting has been completed and you and your optometrist are happy that your lenses allow you to see satisfactorily then you will be informed of the final contact lenses specification and offered the opportunity to buy an initial set of lenses. This will usually be enough lenses to last 3 or 6 months. You will be offered the opportunity to purchase the lenses using a monthly Direct Debit scheme, thereby taking advantage of our 5* Aftercare service (see below for details), or by cash on a Pay-As-You-Go basis.
What are the benefits of disposable contact lenses?
New manufacturing methods have made it possible for users to have a fresh pair of lenses regularly for about the same cost over a period as non-disposable lenses. Daily disposable lenses are becoming increasingly popular as they eliminate the need for lens care, but depending on the type of lens and the environment in which it will be worn, the replacement period can be anything from one day to one month.
The main benefits of disposable contact lenses are as follows:
Every month, week, fortnight or day you use a fresh new pair of lenses which are comfortable and ensure healthy eyes.
Simple

 

cleaning and disinfection systems mean less fuss and bother first thing in the morning and at bedtime.
Offer the opportunity of always wearing an up to date contact lens prescription following regular check-ups.
You always have spare contact lenses should you lose or damage a lens.
Regular checkups on your eyes are part of the care regime and are included in the monthly fee.
The '

all-inclusive

' monthly fees can be paid by 

Direct Debit

, spreading the costs evenly and allowing you to budget for your of contact lenses.
5* Aftercare Service
If you opt to pay for your contact lenses by Direct Debit there are several major benefits. These include:
Reduced cost contact lenses compared to a

Pay-As-You-Go

basis.
All scheduled and emergency check-ups including routine eye examinations are included in your 

Direct Debit fee

.

10% discount

 when purchasing spectacle frames, lenses, sunglasses (including prescription sunglasses), contact lens solutions and accessories.
Option to spread payment for spectacles over 6 months using your regular 

Direct Debit

.

Home delivery

 service for your contact lenses (availability dependent on contact lens type).

10% discount

 on extended eye examination tests including OCT, visual field and dilation examinations.
Out-of-office-hours emergency telephone advisory service.