Sunglasses. We have over 200 pairs of sunglasses in stock throughout the year, including models from Rayban, Oakley, Serengeti, Maui Jim, Adidas and Smith Optics.
We can offer any type of sunglass tinting, from solidly fixed colour lenses to graduated tinted lenses with a mirror tint as well as polarised lenses which are ideal to reduce reflected light which causes glare when driving.
In addition, we have ski goggles, swim goggles and scuba diving masks.
interest in performance-oriented sunglasses for sportsmen and sportswomen who require specialised tints or protective lenses has surged in recent years. This, along with participation in outdoor activities such as mountain biking, snowboarding, rock climbing, kayaking, skiing, golfing and in-line skating has led to a demand for well-fitting frames. Durable and specialised performance sunglasses are needed also for certain professions such as the military.

To meet the demands of both casual and competitive athletes, sunglass manufacturers are developing innovative new sport sunglasses to provide the best vision possible under extreme conditions. The results: lightweight, flexible, durable materials, no-slip components that do not fail in the heat of the moment and, of course, have many choices in lens style and colour.
Whether it be polarised lenses for fishermen, skiers or yachtsmen or high contrast lenses for golfers, clay pigeon shooters, skiers or cyclists we can offer expert advice on the most appropriate solution for your individual requirements.
You might also consider prescription swimming goggles when it comes time to take a dip. We stock a selection of 'ready to wear' swimming goggles to suit both short and long-sighted prescriptions.
We stock a selection of 'off the shelf' polarised Maui Jim sunglasses which help you if you only need reading glasses or if you wear contact lenses and still need that additional boost for reading. Plano (no power) lenses inset with a bifocal for reading, tying a fishing hook or marking a golf scorecard.
Cost of prescription sunglasses: Maybe cheaper than you think!
If you are budget-minded, don't forget to compare all the features you want from your favourite brands of sunglasses. A bargain isn't a bargain if it doesn't do what you expected. Ask us for advice and we could find you a real bargain.
If you are one of our contact lens wearers who pays for them by Direct Debit, remember that as part of your 5* Aftercare service you receive a discount on a prescription and non-prescription sunglasses.
Prescription sunglasses
If you have a vision problem that requires corrective prescription eyewear, we specialise in sunglasses with your individual prescription. Prescription sunglasses are available for virtually any lens prescription, including varifocal and bifocal options if you are presbyopic and need lenses to help you read that magazine or book at the pool. You may sometimes find yourself driving down the road, sun shining in your eyes, and you end up searching in vain for those clip-ons or magnetically attached sun lenses that came with your prescription spectacles.
Worse still, some drivers are swapping their prescription glasses for Plano non-prescription sunglasses. For many, it's unsafe to drive without vision correction, and it's at times like these, you might find that prescription sunglasses are much more convenient and more than worth the additional investment.
Contact lens wearers, too, may find wearing prescription sunglasses is sometimes a far more practical alternative outdoors. For example, you may not want to wear your contact lenses on the beach where your eyes can become itchy and watery as you battle the effects of sand, sun, wind and water.
Prescription sunglasses come in many frame styles

The styling of prescription sunglass frames is nearly the same as with non-prescription sunglasses. Almost all of the same fashion, designer and celebrity eyewear options apply.
Even strong prescriptions can now often be manufactured in modern curved wraparound frames and lenses. The more the frames wrap around your face the better they shield you from bright and harmful light.
Sunglass lenses for high performance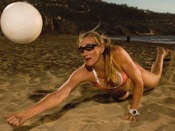 Perhaps the most important elements of effective sports sunglasses are the optical quality and visual enhancement properties of the lenses. Many lens tints such as brown, green, grey, yellow and orange are now available, with each colour suitable for specific circumstances. Skiers in snow would want the high contrast provided by amber lenses, whereas grey lenses are best for preserving "real world" colours in bright sunlight
.
Polycarbonate lenses are the best choice for high-performance sunglasses because they are lightweight, super strong and more impact-resistant than most other lens materials.
Unlimited lens options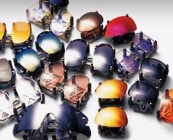 Prescription sunglasses are available in all lens materials, including high-index, polycarbonate, standard (CR39) plastic, 
Trivex
®
 (a lightweight material similar to polycarbonate) and glass. Though glass lenses arguably provide the best optical quality, they are no longer the most popular choice for sunglasses. This is because they are much heavier than lenses made of other materials, and they can shatter easily. However, they are still available if you request them.
Another sun eyewear option is to purchase prescription sunglass lenses that have a photochromic tint.  Photochromic lenses automatically darken in sunlight and then return to a clear state indoors.
Photochromic lenses are very convenient, but they do have one drawback: UV rays are required to activate the tint. Because most car windscreens block a significant amount of UV, photochromic lenses usually don't darken very well inside a car.
For the ultimate prescription eyewear suitable for all lighting conditions, we recommend spectacles with photochromic lenses and a frame with integrated magnetic clip-on sunglasses. The photochromic lenses provide automatic sun-sensitive light adjustments for greater comfort outdoors, and the clip-on sunglasses can be conveniently stored in your vehicle for those bright, sunny days when you need a darker driving lens.
UV and glare protection

As with non-prescription sunglasses, your primary concern when buying prescription sunglasses is that the lenses block 100% of the sun's harmful UV rays.
UV protection is unrelated to the colour and density of the tint in sunglass lenses, so you can choose any lens colour and darkness you like, as long as your optician verifies that the lenses provide 100% UV protection.
For added glare protection from light bouncing back from reflective surfaces (like water, snow, sand and concrete pavement), prescription polarised sunglasses also are available (see sidebar right).
Sunglasses for kids
Children may or may not be as interested as adults in the fashion aspect of sunglasses. However, kids spend much more time outdoors than most adults do, therefore sunglasses that block 100% of the sun's harmful ultraviolet (UV) rays are extra important for children.
In fact, many experts believe our eyes get 80% of their total lifetime exposure to the sun's UV rays by age 18. And since excessive lifetime exposure to UV radiation has been linked to the development of cataracts and other eye problems.
UV rays aren't the only potential danger from sunlight. Recently, researchers have suggested that long-term exposure to high-energy visible (HEV) light rays, also called "blue light," may cause eye damage over time. In particular, some believe a high lifetime exposure to HEV light may contribute to the development of macular degeneration later in life.
Therefore, it's never too early for kids to begin wearing protective sunglasses outdoors and as soon as they begin playing in direct sunlight.
Polarisation
For most other sports and activities, polarised sunglasses offer great advantages. And today, many polarized lenses are available in combination with other features that can enhance outdoor experiences.
Besides those who sail, outdoor enthusiasts who benefit the most from polarised sunglasses include skiers, bikers, golfers and joggers, all who may enjoy a clearer view along with elimination of glare.
The polarisation actually cuts out the light coming from the horizontal meridian while allowing in the light coming in from the vertical meridian. In other words, it blocks the light that reflects in from water, concrete or reflective surfaces, reducing glare.
Polarised sunglasses are ideal for driving and, in fact, can reduce glare from a long, flat surface such as the bonnet of the car or the road's surface.
Polarised photochromic lenses, such as Drivewear® which change from dark outside to light inside, are suitable for drivers who are light-sensitive and who frequently move in and out of the sun on any given day.