Please Note During the second COVID 19 Lockdown Special Measures are in place refer to the COVID 19 Instructions for contact during this period on this site. Key Email is cv@pwoptometrists.com
Established in Reigate since 1986



Paul
Whiteman Optometrists was established in Reigate by Paul and Jane Whiteman in 1986. As independent optical practitioners, Paul Whiteman Optometrists aim to offer the highest level of eye care possible.

Our large modern practice



Since moving to our new premises at 20, Church Street, Reigate in 2004 we have built a large extension nearly doubling the previous floor space. This has allowed us to display a much larger range of spectacles, sunglasses and optical accessories. To help make visiting Paul Whiteman Optometrists a relaxed experience we have created two new consulting rooms with large air-conditioned waiting areas.

Quality & continuity of eye care



All of our optometrists and eye doctors are fully qualified and registered with The General Optical Council or General Medical Council. They all have many years of experience of providing high-quality eye care both within the National Health Service and in private practice. We employ long-term practitioners so that we can offer both quality and continuity of eye care.

We are pleased to help



As well as measuring your eyes for suitable spectacles or contact lenses and looking after the health of your eyes, our practitioners can offer a number of additional services. Whether you require advice on screening for diabetic eye disease, the visual aspects of dyslexia, prescription sunglasses, help with selecting a new magnifying glass or just need a pair of broken spectacles repaired, we are pleased to help.

Customer service



If you have any questions about our services and products please ask our staff by telephoning

01737 223202

or email us:

cv

@

pwoptometrists.com
What is the cost of eye care?

We are happy to explain the cost of any aspect of our services and products. Our aim is to make our prices as simple and transparent as possible.
We offer our 3 point frame and lens pricing policy which helps you work out for yourself the total cost of your spectacles whilst making your selection. Contact lens fees can be paid on a Pay-As-You-Go basis or by monthly Direct Debit to spread the costs more evenly.
We believe in offering individual, high quality, cost-effective solutions for all your eye care requirements.
Methods of payment
We are able to accept payment for products and services by cash, cheque or leading Credit and Debit cards. We can also offer Direct Debit payment for contact lenses subject to requirements (enquire in practice).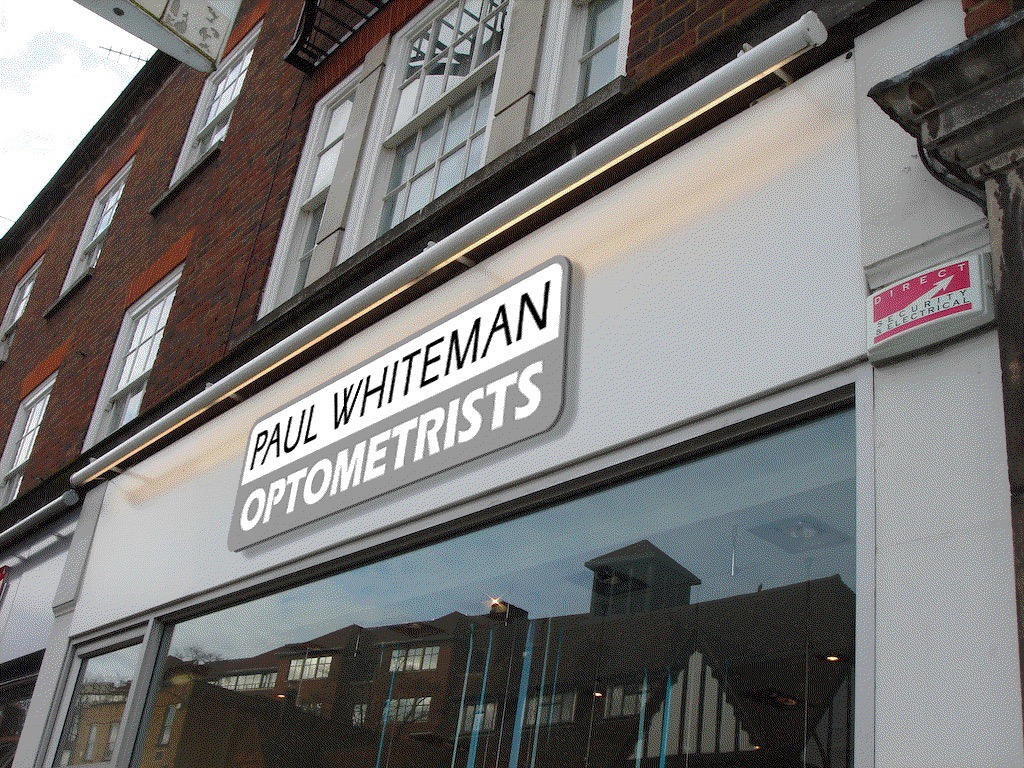 Our Lockdown Opening Times
From January 4th 2021 we will be changing our opening days. We plan to be open 5 days per week, Monday through to Friday 9.00am – 5.30pm and will be closed on Saturdays.
We will return to Saturday opening when the lockdown ends.
During lockdown we will be closed for lunch everyday 12noon to 1.00pm.
We will be open for business during the following times:
Where are we?
Our address is:

20 Church Street Reigate Surrey RH2 0AN
Paul Whiteman Optometrists is located 100 metres from the old Town Hall at the centre of the Reigate shopping district. The practice is on the south side of Church Street located next door to the Post Office.
Local car parking
Church Street

1 hour on-street free parking including provision for disabled drivers (3 car spaces) directly outside our premises.
There are also 3 Pay & Display car parks near to our practice:
Bancroft Road

(250m from practice)

Pay & Display in multi-story car park.

Upper West Street

(1100m from practice)

Pay & Display parking.

Bell Street

(1000m from practice)

Pay & Display parking at Priory car park.